Education
FTC Robotics Club Visits KC Robotics
08/03/2017 – The FIRST Tech Challenge (FTC) Robotics Club from the Warren County Cadet Squadron – Civil Air Patrol – visited KC Robotics as part of their STEM education. The group, made up of 7th and 8th grade students from Lakota and Mason schools, is building a robot for the First Tech Challenge (FTC) competition.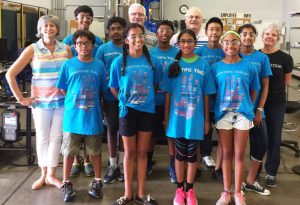 KC Robotics Engineering Manager, Greg Davis, introduced the students to the benefits of industrial robotics, safety, careers, and three applications of robotic automation. The students toured KC Robotics' Systems Build Center where they inspected a KUKA robot's axis motors to understand the flexibility of industrial robots. They viewed three robotic systems in different stages of development, seeing the use of robotics for ultrasonic cutting, welding, and material handling with vision.
After a tour of the facilities, the students showed our engineering team the robot they are building and asked for suggestions on how to improve the design. They were excited to return to the drawing board with new ideas. Last year, several of the students competed in the FIRST LEGO League competition with a neighborhood team, reaching the international finals in St. Louis. The challenge is greater this year with the FIRST Tech Challenge, where they will be one of the younger groups.
The FIRST Tech Challenge 2017-2018 season game will be FIRST RELIC RECOVERYSM – Presented by Qualcomm. Season Kickoff and game reveal will be Saturday, September 9, 2017.
On their website, the FTC writes, "The mission of FIRST is to inspire young people to be science and technology leaders and innovators, by engaging them in exciting Mentor-based programs that build science, engineering, and technology skills, that inspire innovation, and that foster well-rounded life capabilities including self-confidence, communication, and leadership."
The Warren County Cadet Squadron Civil Air Patrol Robotics Club is a 501(c)(3) chartered organization. If you would like to make a donation, you may mail a check to:
 Warren County Cadet Squadron - Civil Air Patrol
 Robotics Club
 Warren County Airport
 2460 Greentree Road
 Lebanon, OH 45036
 http://warrencountycadetsquadron.com/index.php/help-us/