AUTOMATED SOLUTIONS FOR INNOVATIVE MANUFACTURERS
KC Robotics is a process-driven robot systems integrator, specializing in arc welding, material removal and material handling applications. As an RIA Certified Robotic Integrator, customers trust KC Robotics to meet industry best practices in quality, risk assessments, certified robot technologists, engineering and programming. We partner with Yaskawa Motoman, KUKA Robotics, and ABB Robotics, to improve customers' profitability and productivity.
With full integration services – concept development, design, engineering, EOAT, programming and system build – KC Robotics provides creative automation solutions in various industries, including aerospace, appliance, automotive, composites, construction, consumer goods, defense, electronics, foundry, glass, metal and plastics.
We work with each customer from concept development through installation with detailed communication and guidance from an engineer/project manager.  Our goal is to deliver automation systems on time that improve the customer's profitability, manufacturing quality and personnel safety.
The KC Robotics' Support Team keeps your system running with technical service, robot parts and consumables, as well as system accessories.
For more than 18 years KC Robotics has been providing automated solutions to solve the challenges manufacturers face. KC Robotics has the stability, expertise and experience to give you the peace of mind you need to move forward with your robotic projects.
KC Robotics is an active member of the Robotic Industries Association (RIA), Goering Center for Family & Private Business, and several trade and commerce organizations. We support our local community through Charity fundraisers and working with FIRST robotic teams.
1990 – Incorporated as K&C Industrial Sales, Inc.
Original business included robot parts and service
1998 – Changed name to KC Robotics, Inc. and moved to current facility
2000 – Added Systems Integration Department
2011 – Accepted as Motoman Robot Integrator Partner
2012 – Signed on as KUKA Robotics System Partner
Grew into a premier robotic systems integration house while maintaining original robotic support services department
2017 – Became Exclusive Robotics Integrator for Yaskawa Ultrasonic Cutting
2018 – Recognized as RIA Certified Robotic Integrator
2018 – Became ABB Robotics Channel Partner
I recently read John Slater's post at http://capmatters.com – Is Industry 4.0 the New DotCom Boom?  "Imagine Amazon on Steroids" are his words. John is describing a new world in the not so distant future where digital automation will transform the global economy and create better jobs and better lives. Throughout the article, John describes […]
/wp-content/uploads/2018/01/kc_robotics.png
0
0
Connie Carrier
/wp-content/uploads/2018/01/kc_robotics.png
Connie Carrier
2017-05-12 06:13:39
2017-05-12 06:13:39
Advances in Automation - "Imagine Amazon on Steroids"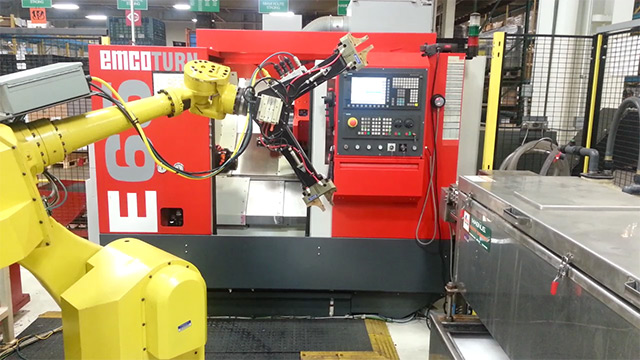 KC Robotics' Automate booth is going up! We're waiting for the graphics and touching up the points. Look for our booth as you come up the escalator. You can't miss us!
https://kcrobotics.com/wp-content/uploads/2016/09/Lathe-Tending.jpg
360
640
Connie Carrier
/wp-content/uploads/2018/01/kc_robotics.png
Connie Carrier
2017-03-30 06:54:05
2017-03-30 06:54:05
AUTOMATE 2017 UNDER CONSTRUCTION